In 2021 we released the ability to collect donations, contributions, and variable amounts for programs.
When you accept donations, there is no required payment (meaning people can choose to attend for free), but suggests amounts for them to donate as you stipulate. This applies BOTH to live sessions and recordings!
People can donate upon registration, and at any time, directly on the class page. See Here: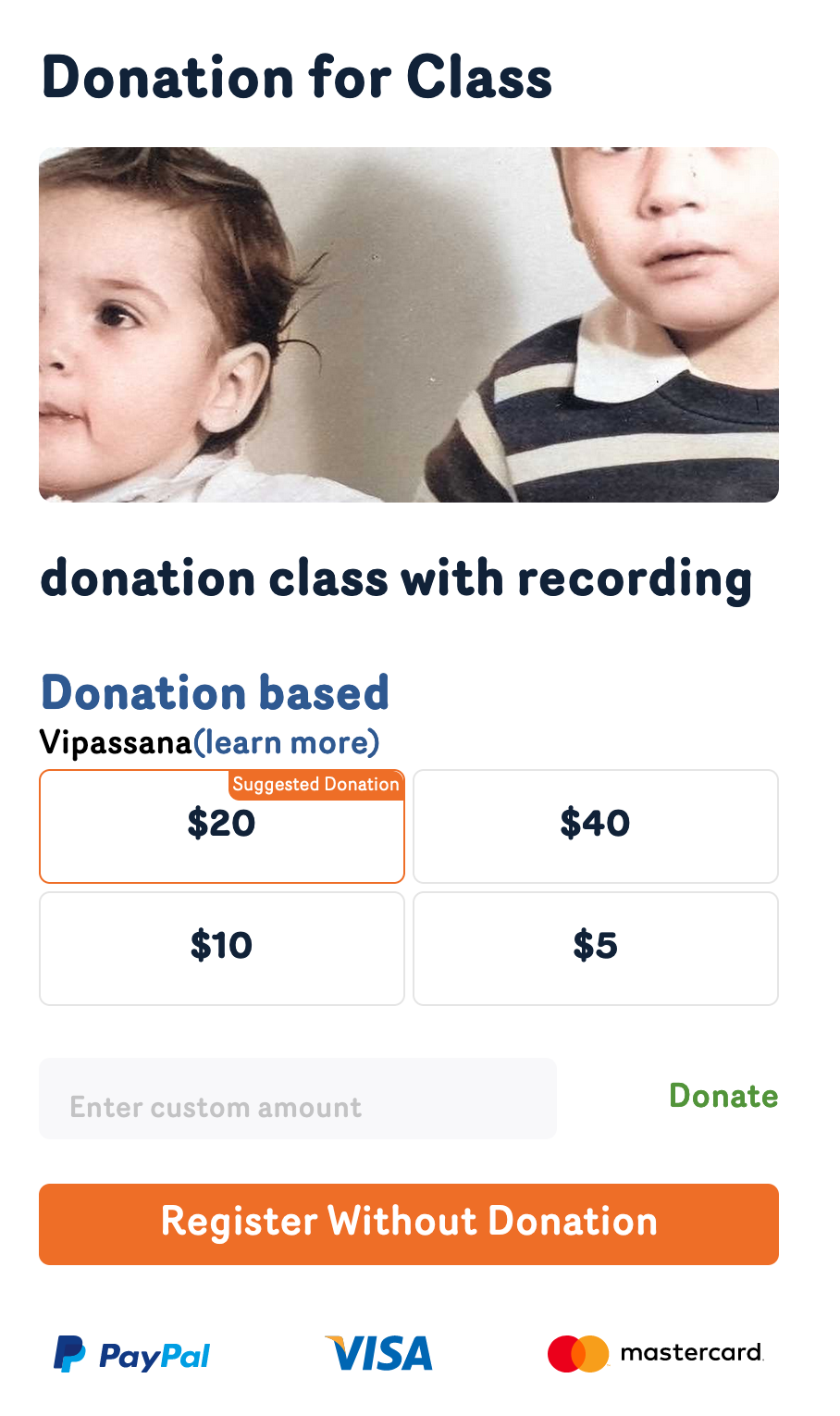 Raising for a Cause:
You can choose to leave the "Donations go to.." info blank, in which case, donations are assumed to go to the instructor or organization leading the program.
You can also choose to add a non-profit, charity, or cause you are collecting donations for, or in the case of specific initiatives (eg "Rebuild Maria Salazar's House"), put the information about the initiative for people to learn more about where the funds are going. There is also the ability to add a link to the organization's webpage, cause info page, or personal site so people can find out more.
Make sure to see the terms and conditions at the bottom of this page for specific dos and do not's.
How does the funds transfer work?
Donations work similarly to paid classes at Learn It Live. Funds will be transferred into your LiL payment account (you can track in "My Payments") and deposited in your selected payment account on the 15th of each month.
If you want funds to be transferred to a "beneficiary group," like a non-profit, instead of going to your account, please put their payment information in the "payment." If there needs to be a split, for example, you lead some paid classes and the money goes to you, and some classes are by donation and the money goes to a non-profit, get in touch. However, the easiest way is for Learn It Live to transfer all of the funds to you to then distribute.
Fees and Cost Details:
In certain cases, Learn It Live does partner with non-profits and NGOs to raise money directly. However, we are not a non-profit or charity receiving funding to operate. Learn It Live is tech platform to help non-profits, charities, and people in general, collect donations and run their classes. As with Paypal's 2.9% fee, Learn It Live's standard 12% fee is deducted from the total amount.
If your group raises over $100,000 in donations in a given year, get in touch
Terms and Conditions
Learn It Live is a technology platform to facilitate leading online classes and collecting payments/donations for online classes, both live and recorded. Learn It Live is not employing or engaging instructors as independent contractors. Any funds collected, apart from Learn It Live commissions, are the instructor/organizations.
If an instructor/organization indicates funds are going to a particular cause, it is 100% up to the instructor/organization to distribute the funds in the manner indicated, unless the instructor/organization has empowered Learn It Live to distribute the funds directly.
If found that any funds are being improperly directed, with the purpose of deceiving or misleading the donors, to a cause not initially stated as, or that the donation system is abused in any way, Learn It Live may suspend account access or otherwise put a hold on funds until the situation is resolved. The funds will then be distributed.

Therefore, to be clear to potential donors, if only 25% of the proceeds are going to be donated to Cause X, you can say "25% to Cause X", don't just say "Cause X".

The cause can be left blank, and in this case, the assumption is that the funds go to the instructor/organization leading the program.
All government tax filings is up to the individual or organization and based on their particular tax status. Just because something is a "donation" doesn't mean it is tax deductible if it is distributed to a non-501C or approved tax deductible entity.